Games for the 150 Sesquicentennial
Richmond Hill's sesquicentennial is a wonderful celebration of the town's history and community spirit! The sesquicentennial is a time to reflect on the achievements and growth of Richmond Hill over the past 150 years, and to look forward to the future with enthusiasm and optimism.

There are many exciting events and activities planned as part of the sesquicentennial celebration. Residents and visitors alike can look forward to concerts, parades, special exhibits, historical reenactments, and much more. This is a fantastic opportunity to come together as a community, celebrate our shared heritage, and create lasting memories.

We encourage everyone to get involved in the sesquicentennial celebration by volunteering, attending events, and sharing your own stories and memories of Richmond Hill.

Let's make this a fantastic celebration of our town's rich history and bright future!

Start with these games. They are an entertaining way to participate in the City's festivities.

Online games from home and around the city.
Visit the Village.
Visit merchants.
Visit websites.
Collect points.
Answer a quiz.
Win prizes.
Enjoy.

WIN A PRIZE

RICHMOND HILL ARCHIVAL PHOTOGRAPHS


LOCAL NEWS & EVENTS



DO YOU KNOW?
Play a quiz about Richmond Hill and learn our history. Visit local sites. Visit a merchant and ask for their daily secret word.
? In 1798, French exiles were granted 22 lots of 200 acres each just south of Bond Lake on the hill known as the Summit.

CRACK THE CODE
Decode words related to Richmond Hill in this code-cracking word deduction game.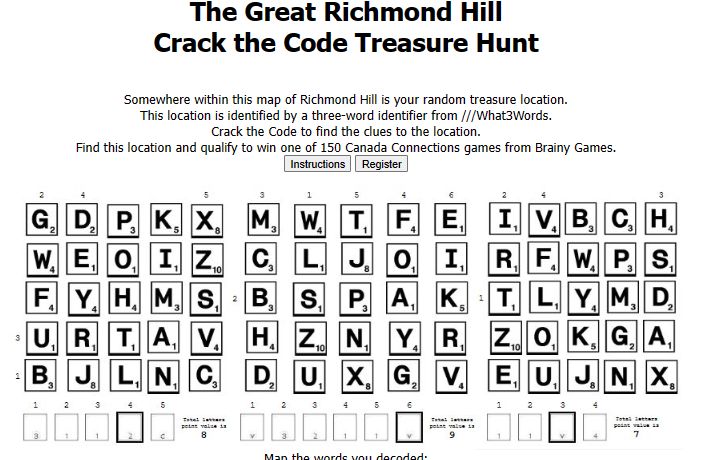 TREASURE HUNTS
150 years ago, a treasure was buried in Richmond Hill.
Its treasure map included three mysterious words.
Decode these words to identify the "dig" location.
Qualify to win one of 150 Canada Connection games.


RH PUZZLES & GAMES
Check out tactile word games and puzzles from Brainy Games, your "local merchant of fun".


UPLIFTING THE HILL
Align letters into words related to Richmond Hill in this uplifting word game.


RICHMOND HILL CITYWIDE DELIVERY GAME
Brainy Games makes a family game where you deliver gifts and pizzas to secret locations in Richmond Hill.