Mark has created a special format using hexagonal "worms" and six-sided pieces to make difficult puzzles, staying away from traditional jigsaw shapes. Mark cuts lasercut puzzles from 1/8-inch wooden hardboard. Puzzles larger than 8x10 are digitally printed first. He can cut puzzles as large as 17x23 inches.
Typical lasercut wood pricing is...
8x10 jigsaw up to 100 pieces $25,
8x10 in a tray with about 50-60 tetris-shaped?pieces $30
11x17 jigsaw up to 200 pieces $30
11x17 in a tray $35
11x17 with 250-300 hexagonal worms $40
24x18 jigsaw $80
Lasercut Cardboard puzzles
11x17 jigsaw $25
Magnetic wall hanging puzzles
12x12 $20 plus $1 per piece
12x20 $35 plus $1 per piece
24x18 $45 plus $1 per piece
Tray puzzles are great ice breakers for your coffee table to keep guests busy.


Puzzles in trays are great entertainment for guests. Leave on your coffee table.


Puzzles can have embedded shapes



Lifesize Violin Puzzle

Nativity Puzzle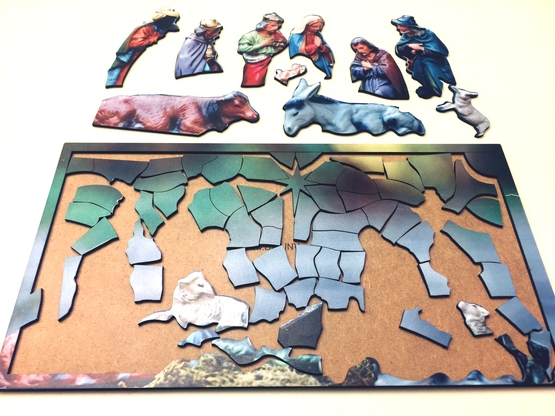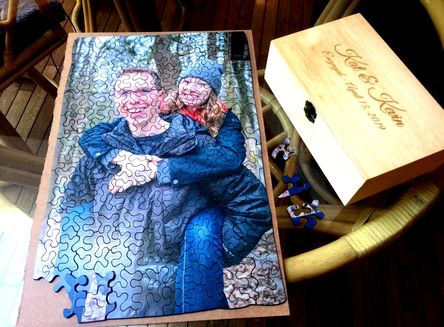 Puzzles can have unique, angular shapes


Puzzles can have embedded shapes


Skate Puzzles (Many Colours)

Six-foot long Mummy Sarcophagus taken at Cairo Antiquities Museum
Puzzles
Mark has a proprietary process for printing, sealing and lasercutting quality puzzles from wooden hardboard. Puzzles can have regular jigsaw shapes, but more complicated hexagonal worms are our unique puzzle style. Puzzles can have straight edges or can follow the outlines of any object. Whimsical pieces shaped as objects, animals and letters (whimsies) can be embedded into puzzles.
Tap links below to view catalog details ...
Epic Puzzles
Request a special puzzle to be made from one of these epic images. Although my maximum size is usually about 24x18 with 1,000 hexagonal worm pieces, it is possible to lasercut larger puzzles depending on the image. For example, I have a six-foot mummy sarcophagus puzzle.
Click a summary image to view a selection of images before requesting options by email to mark@brainy.games:
Andrew Kolb's Images
Animals
Cottage
Graffiti
Kids
Landscapes
Laura Marin's Photos
Magnetic Wall Hanging Puzzles
Maps
Mark Kolb's Photos
Newspapers
Paintings
Panoramas
Portugal
Posters
Round Hex Puzzles
Can't find what you need?
Need more images?
Visit
Pixabay
to find a free image that you can send to me for your special puzzle.